---
---
And the Winner is Rosie Musgrave
Rosie Musgrave from Buckfastleigh is the very popular winner of the Leechwell Garden Sculpture Competition. The five judges spent a morning interviewing each of the four candidates in great detail about their proposals for the Garden and many more hours deliberating over the result. It was a very close call with four excellent works to choose from but Rosie's Three Guardians to be carved from Portland stone won the day.

The white stone will stand out against a background of dark green hedging and will have low evergreen planting at the base. The abstract figures will combine a twenty-first century approach with a traditional link to the water source and the three healing wells known as Snake, Toad and Long Crippler (slow worm). The ý5000 award from a Community Spaces Grant will be officially presented in the New Year and the Leechwell Garden Association expects the sculpture to be installed in the early Summer 2011.

Rosie is an Associate member of The Royal British Society of Sculptors and a Member of Southwest Sculptors. The image on the right ("The Crucible") is an example of her work in Portland stone (click on the image for a larger view).
Public Art Competition News
The exhibition of the four finalists at Birdwood House on Saturday 4th December was very well attended, despite the weather. The photo below shows the four finalists, together with Charlotte Rathbone, Tony Whitty (the Mayor of Totnes) and his wife Carole. Click on the picture for a larger view.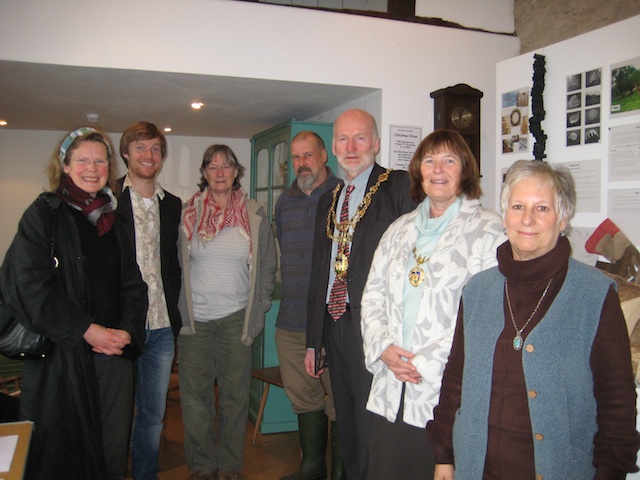 From left to right are Charlotte Rathbone, Chris Amey, Rosie Musgrave, Gary Thrussell, Tony Whitty, Carole Whitty and Suzanne Redstone.
There was an excellent response to the Public Art Competition with 20 artist/sculptors submitting a great variety of ideas of a very high standard. After much deliberation the selection panel chose four finalists to go through to the next stage:
Over the next few weeks the finalists will be submitting details of their ideas and an exhibition of the four finalists' work may be seen for one day only at Birdwood House, Totnes on Saturday December 4th, 10.00 - 4.00 pm.
The winner will be announced on December 15th 2010.


£5000 Public Art Competition - Call for Entries
The Leechwell Garden Association in partnership with South Hams District Council invites submissions from Artists/Sculptors for a piece of site-specific work to be installed in the newly created Leechwell Garden in central Totnes, South Devon.
ELIGIBILITY
The project is open to Artists/Sculptors born, living or working in South Devon.
LOCATION
Leechwell Garden is located behind Heathway and Leechwell Lane in the newly developed Southern Area of Central Totnes.

It is a small community garden of approximately 3/4 of an acre and was developed after much community consultation in 2010.

The garden is a sloping site with paths, lawns, trees, play area and raised herb garden. A stream with ponds runs through the garden fed via a small pool in turn fed by the Leechwell which itself is situated in the lane outside the garden. You can view more photos of the garden by clicking on the Gallery link above.

The well and the pool were both recently scheduled by English Heritage.
REQUIREMENTS
The piece should be site-specific, permanent and durable requiring minimum maintenance.
There will be a viewing day (2-5pm Saturday 9th October) in the garden and all interested parties are strongly advised to visit and familiarize themselves with the garden and identify possible installation sites. Members of the Leechwell Garden Association will be available to answer any questions on the day.
A short list will be drawn up from the entries and final judging and interview will be made by a panel of five local design professionals:
| | |
| --- | --- |
| Annie Bowie | Gallery Owner |
| Jon Capel | Architect |
| Janet Mitchell | Artist |
| Peter Randall-Page | Sculptor |
| Charlotte Rathbone | Landscape Architect |
SUBMISSION REQUIREMENTS
Letter of interest and initial sketch ideas.
C.V.
Minimum of 3 Maximum 10 images of previous work either photos or on CD, no original drawings, models or maquettes at this stage.
References from any similar commissions if available.
Please send your submission and any enquiries by email to Janet Mitchell at janet@artifex.freeserve.co.uk
AWARD
A single award of £5000 from the Groundwork UK and Big Lottery Fund's Community Spaces programme will be made for the winning entry. This will include VAT and all costs relating to the commission: construction, installation, transport, delivery, all materials, attendance at meetings and travel expenses incurred during site visits.
The Award will be payable in two parts: the first part of £1500 on signing the contract and £3500 on installation and inauguration in Leechwell Garden. The artist will be responsible for maintenance of the work for the first twelve months excluding wilful damage.
The work must comply with all public health and safety regulations.
Written, regular records are to be kept. There will be a workshop/studio visit and review half way through.
Timeline
| | |
| --- | --- |
| Announcement of Competition | Monday 20th September |
| Garden Visit | 2-5pm Saturday 9th October |
| Submission of letter of interest and initial sketches by | Saturday 23rd October |
| Announcement of shortlist | Saturday 6th November |
| Detailed Submissions of site-specific work: drawings, models, maquettes by shortlisted artist/sculptors by | Saturday 27th November |
| One day Public Exhibition of shortlisted work | Saturday 4th December |
| Interviewing of candidates | 6-10th December |
| Announcement of Winner | Wednesday 15th December |
Following the signing of the contract, three months will be allowed for completion of the work.